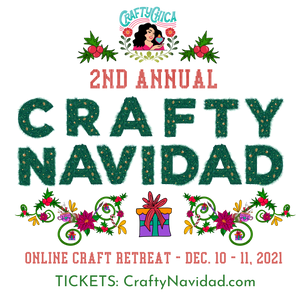 SOLD OUT: Crafty Navidad Art Retreat
Regular price $199.00 Sale
Registration is now open for the 2nd Annual Crafty Navidad,  hosted by me, Kathy, The Crafty Chica!
I'll guide you along, every step of the way via livestream! This retreat will e recorded so you can rewatch at your leisure. 
Boxes will be shipped December 1st.
This virtual retreat is going to be packed full of projects, ideas, and even a couple surprises to get you ready for the season! In between classes, I'll share some other tutorials to inspire you for the holiday season!
Limited spots because I'll be packing and shipping the kit boxes, I want to keep it manageable! 
Your ticket price includes:
Each project is packaged as a kit with all the supplies. You will receive a supply kit that includes a paint set, adhesives, needle, threads, sealer, embellishments, etc.
Empowerment Guardian Shadow Box: The holiday season is going to busy - physically and emotionally, as always. This little shrine is to remind you to focus on what brings you joy. you can personalize it however you'd like.
5¾" H x 4¼" W x 1¾" D. 
La Virgin Reverse Painted Art: This project comes with a template and I will guide you along to paint La Virgin of Guadalupe. Comes with a gold glittered frame (different than in picture). Painted image measures 5x7".
Mixed Media Pendant Necklace: We will use a variety of papers and textures to create a sparkly necklace for the season. Pendant measures approximately 3", ribbon 24".
Holiday Notepads: We use assorted papers and embellishments to create a set of two bright and cheery holiday notepads that make great gifts or stocking stuffers!
Holiday Cards: We will create three different holiday greeting cards and tags that you can use for gift giving or for your own craft night!
Felt Gift Card Holder Ornaments: These are so fun to make! We'll make three gift card holders in a variety of styles, you will be able to choose which ones you want to make or even make all of them! I love these because they are ornaments that are functional! 
Painted Ceramic Ornament: This is a mystery design, each person will receive a random design - it could be a cactus, a mermaid, etc...
SURPRISE PROJECT: This one will be revealed at the time of the retreat, Santa said to keep it a secret until then, we have to build the excitement!
Directions: You'll receive a full-color PDF of all the projects, pictures and steps!
Exclusive collage sheet: I will curate and illustrate a variety of designs and motifs to help you customize  your projects.
Swag!
- Exclusive canvas tote.
- Exclusive hand painted Crafty Chica mug.
- Arizona-themed treats to get in Crafty Navidad mood.
- Special gifts from sponsors.
- Crafty Chica surprise goodies!
This package has a retail value of $600+ if I were to teach and sell the merch items individually, but I'm pricing it at $199 because well, it's the holidays and we some Crafty Navidad fun together!
We will have a top secret VIP Facebook group to house all the class videos, and so you can post pictures of your finished pieces, ask questions and meet other class guests!
WHAT YOU NEED:
Internet, this retreat is all online.
Scissors (required), favorite  paintbrushes (optional), hot glue gun (optional)- and whatever personal embellishments you want to use.
NOTE: All classes will be recorded and housed in the private FB group, and you will also receive a link to the recordings, so even if you can't be there in person for the actual days, you can still receive the Crafty Navidad box of supplies and treats and watch the videos whenever you want! Craft on your own time, whenever you want!
Excited? I know I am!
I hope you'll join me for Crafty Navidad! Let's make it an annual tradition!