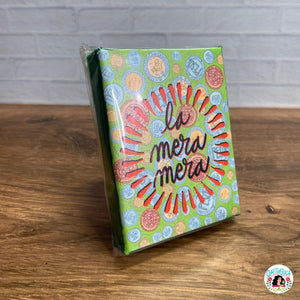 'La Mera Mera' Chunky Canvas Print
Regular price $18.99 Sale
La Mera Mera
Digital illustration by Kathy Cano-Murillo
La mera mera means you are the BEST at what you do! Your energy, skills, and dedication illuminate the path to success. Not only in a material sense, but for your soul too.

Your journey has been one of overcoming challenges and obstacles, molding you into the powerful individual you are today. Each step you've taken has shaped your greatness for the present and for the good that is to come.

So embrace your role as 'la mera mera,' and define what specifically it means for you. Keep striving to live your best life, and sharing the love inside and out. There is no limit to your creativity or potential. 

Your la mera mera journey honors your ancestors - and inspires others as well.

See more at CraftyChica.com or CraftyChicaStore.com

@craftychica
This print is for personal use, may not be duplicated or distributed without permission. ©2023 Kathy Cano-Murillo, Crafty Chica, LLC

Measures 4.5x3.5x.75