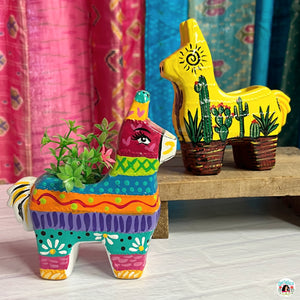 SOLD OUT Piñata planters online class
Regular price $49.99 Sale
This online class is for a set of two piñata planters! 
Zoom class : You do not have be at the live session, link will be provided so you can watch after at your own leisure.
August 24th 6-9 pm PT
An exciting and colorful online three-hour craft class led by me, Kathy Cano-Murillo, The Crafty Chica and my husband, Patrick Murillo! We are both full-time artists with our own style and you'll experience that in this class!
I will show you how to paint a colorful striped version with lots of patterns and textures, and Patrick will teach how to paint a gorgeous cactus scene.
This will be a three-hour class, 90-minutes for each design, with a break between each session. 
Perfect for crafters of all skill levels and ages.

Each participant will have kit mailed that includes all the materials you need:

Two blank Crafty Chica piñata planters: Measures 5 ⅝" H x 2" W x 5 ¼" L. The planters have a hole at the bottom for drainage, and also comes with a rubber stopper to place in the hole in case you want to use it as a container.
16-color paint set: An extensive palette of acrylic paints to mix and match.
Gloss varnish
Brushes
PDF packet of photos, instructions, links to products, resources, Zoom class, and more.
Once you've completed your painting, use the sealer to protect your art and give it a long-lasting finish that preserves its brilliance.
WHAT YOU NEED:
Internet, this retreat is all online.
Proper email listed on your order. I will be emailing you the link to the retreat packet that will be updated weekly with all all you need to know. Make sure it does not go to spam.
Proper mailing address listed correctly on your order. I will have to charge an extra shipping fee if I have to reship your box.
Pencil for sketching cactus design. Any favorite paints, glitters, etc.